Peyton's Law Signed into Law Press Release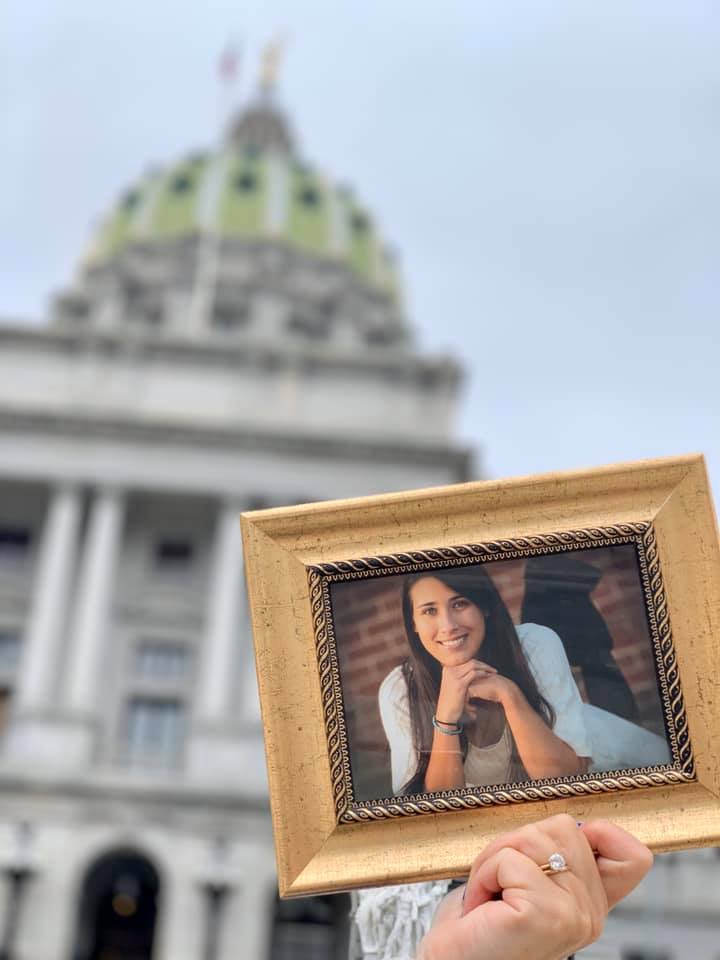 Peyton's Law Bill Passed
FOR IMMEDIATE RELEASE
CONTACT: Lucy M. Gnazzo / 717-979-0692
Lucy@GnazzoPromotions.com
THE PEYTON WALKER FOUNDATION HAILS PENNSYLVANIA'S ENACTMENT OF "PEYTON'S LAW"
​TO COMBAT SUDDEN CARDIAC ARREST IN YOUTH
UNANIMOUS PASSAGE BRINGS LIFE-SAVING TOOLS FOR STUDENT ATHLETES AND FAMILIES
Pennsylvania, SECOND state in nation to enact proactive law to save young lives from SCA 
Law honors 19-year-old Peyton Walker taken too soon by SCA
MECHANICSBURG, Pa. – The Peyton Walker Foundation, one of the country's prominent heart screening advocates and leaders in providing CPR and AED training and equipment donations, applauded Governor Tom Wolf and the Pennsylvania General Assembly for enacting "Peyton's Law" aimed at educating parents and students about the prevalence of Sudden Cardiac Arrest (SCA) and the importance of Electrocardiogram (EKG) testing of youth. 
Julie Walker, Foundation Executive Director and Peyton's Mom stated, "Over the past few years, I've met too many moms and dads who lost their children without warning to Sudden Cardiac Arrest.  Most of their children died from detectable heart conditions that were never diagnosed.  Sadly, a simple EKG could have found many of these heart conditions.  Had these parents known to request an EKG as part of their child's physicals, it's possible their children would still be alive today.  Our hope is that Peyton's Law saves even one young life, because a mom or dad now knows to ask for an electrocardiogram for their child, we will have a beautiful legacy for Peyton and all of the other young lives we lost too soon to sudden cardiac arrest."
Peyton's Law, Senate Bill 836, sponsored by Senator Mike Regan (R-31st District), was signed into law by Gov. Tom Wolf today.  Peyton's Law would require:
That the importance of EKG testing and how it can help detect heart issues leading to SCA be included in the PIAA form that student athletes, their parents/guardians have to review and sign, prior to participating in school athletics.
Schools to include information in this PIAA form outlining the option to request an EKG from a family's medical provider, at their expense, during a comprehensive physical examination.
PA Department of Education (PDE) to develop and post information on their website about SCA – including warning signs/symptoms – and the importance of EKG testing for students. 
KEY CHANGE IN LAW: Currently, students must sign the Sudden Cardiac Arrest Symptoms and Warning Signs form that is already included in the PPE (Preparticipation Physical Examination) forms for Pennsylvania Interscholastic Athletic Association (PIAA).  Peyton's Law enhances this existing form to include information about requesting an EKG as part of the sports physicals. However, Peyton's Law does not require EKG testing.  It educates about the importance of testing to help identify hidden heart issues that can lead to SCA, and encourages parents to request testing for their children. Coaches will still need to complete SCA training annually by a PDE-approved provider.
"Our family applauds the leadership of Sen. Mike Regan and all senators who sponsored Peyton's Law last August, along with all our state representatives and Gov. Tom Wolf.  They recognized the importance of this potentially life-saving legislation and shepherded it swiftly through the Senate and the House.  It is remarkable for a bill to receive unanimous bipartisan support in both the House and the Senate. Thank you to our legislators – they are truly Heart Heroes to all families in Pennsylvania. And a special thanks to Scott and Melody Stephens who led the way in Texas with the passage of Cody's Law. Also, we are grateful to Simon's Heart for their trail-blazing leadership around SCA legislation nearly a decade ago," Walker added.
"As a pediatric cardiologist, I have seen firsthand the devastating impact of conditions associated with Sudden Cardiac Arrest in youth and young adults. Far too often, these conditions go undetected. Peyton's Law can lead to the identification of many life-threatening cardiac conditions which can help prevent sudden cardiac death in youth," according to Victoria L. Vetter, M.D., M.P.H., Medical Director, Youth Heart Watch at the Cardiac Center of the Children's Hospital of Philadelphia, an affiliate of Project ADAM®.
"Peyton's death was the catalyst for this important legislation. And her mom Julie Walker's tireless advocacy propelled it to state and national awareness. Sadly, I've learned about the prevalence and heart break of too many youth taken by SCA, including Peyton. It is my honor to author this life-saving legislation that potentially will thwart the unnecessary loss of our precious youth," said Sen. Mike Regan, the prime sponsor of Peyton's Law.
Sadly, several SCA tragedies struck teenaged children in Central PA.  In addition, thousands more have occurred in Pennsylvania and across the country, mobilizing efforts to not only bring awareness to SCA, but to implement prevention measures. Other families who have tragically lost their children to SCA, echoed Walker's accolades in passage of "Peyton's Law."
"I'm so thankful for the effort of Senator Regan, the Walker family, the state legislation and Governor Wolf in continuing the legacy of heart screening the youth of Pennsylvania.  Giving parents the opportunity to choose heart screening will save hundreds of lives in the future.  Texas passed this law in 2019.   One day it is my hope this is the standard of care across the nation with Pennsylvania and Texas leading the way.  Screen 'em all!"  stressed Scott Stephens, Founder of Cody Stephens Foundation and Cody's Dad.
"If we had been educated – if we had him tested – I would have assured appropriate treatment and he might still be playing as a Bulldog as opposed to playing for Heaven's basketball team," says Jennifer Kuhn, mother of JT Kuhn – the 16 year old Big Spring basketball player who died of an undiagnosed heart condition in early 2019.  
"Had Brendan been tested, he would be with us today.  He would be with us today…"says Terry O'Connor, mother of 22-year old Brendan O'Connor who died of sudden cardiac arrest while practicing lacrosse with his younger brother.
For more information on Peyton's Law or on the Foundation, go to PeytonWalker.org.  
ABOUT THE PEYTON WALKER FOUNDATION:
Peyton Walker was a 19-year-old Mechanicsburg native, 2012 Trinity High School graduate, and a sophomore in college who was pursuing a career as a Physician Assistant at King's College in Wilkes-Barre, Pennsylvania, when she suffered a Sudden Cardiac Arrest (SCA) that took her young and vibrant life on November 2, 2013. Afterwards, her family started researching Sudden Cardiac Arrest, and found that kids are dying every day from undiagnosed heart issues.  THE PEYTON WALKER FOUNDATION was established in honor of Peyton's memory and her dreams of working in the medical profession to help and care for others.  The Foundation's mission is to increase awareness and survival rates of Sudden Cardiac Arrest through education, screening and training. Events, screenings and important updates can be found at PeytonWalker.org.
To date, they are proud to have screened over 3,500 students leading to potential life-saving medical attention for many students. The Foundation also provides AED and CPR training to every STUDENT who attends their heart screenings allowing students and their families a chance to perform hands-on CPR and gain a better understanding of what an AED is and how to use it. The Foundation has donated over 115 Automated External Defibrillators (AEDs) to date, and also has provided over $75,000 in educational scholarships and hundreds of other FREE community CPR and AED Trainings.
Founder Julie Walker has worked with Children's Hospital of Philadelphia, Duke University, Hassenfeld Children's Hospital at NYU, Penn State Children's Hospital, UPMC Children's Hospital and UPMC Pinnacle, WellSpan, Penn Medicine Lancaster General Health, Geisinger Health, PIAA, Big 33, PA Scholastic Football Coaches Association and beyond. Advocates, parents and medical professional recognize that more can be done to protect student athletes to reduce the occurrence of SCA in our children.
Facts about Sudden Cardiac Arrest (SCA):
SCA is one of the leading causes of death in the U.S. (over 600,000 annually).
SCA is the #1 killer of student athletes in the U.S.
Every hour, every day, a student dies from SCA. The majority of those deaths are attributed to detectable and treatable heart conditions that went undiagnosed due to the limited scope of standard sports physicals and well-child check-ups.
SCA is the leading cause of death on school campuses.
Survival rates of SCA are less than 10%.
Some warning symptoms that can lead to SCA include: dizziness, fainting, shortness of breath, ​chest pain, lightheadedness, and passing out.  The first symptom of SCA is often sudden death. However, the use of AEDs and CPR increase the chances of surviving an SCA event. 
RECENT RESEARCH:
A recently published study that appeared in the Journal of the American Heart Association states that the purpose of cardiovascular screening (electrocardiogram testing) is to "identify or raise suspicion of previously unrecognized and largely genetic or congenital cardiovascular diseases known to cause sudden cardiac arrest and sudden death in young people." Most experts believe that early detection of potentially lethal disorders can decrease cardiovascular morbidity and mortality.
LUCY M. GNAZZO
LM Gnazzo Promotion Strategies 
335 Regent Street
Camp Hill, PA 17011
W: 717-731-8279/C: 717-979-0692 
www.gnazzopromotions.com
Lucy@Gnazzopromotions.com