Volunteers Needed!
Our work truly takes a village!
​
Volunteers are critical to checking hearts, protecting hearts and saving lives! Thank you for your interest in volunteering at a heart screening or other event for The Peyton Walker Foundation.  ​If you have time and talent that you would be willing to share with us, please let us know!  We welcome all volunteers! Please complete the contact form below and let us know how you are interested in helping.
We are in need of medical volunteers to assist with heart screenings, CPR/AED instructors and general volunteers to help spread the word about SCA during community events.
Heart Screening Volunteer Jobs
The Foundation provides about 40 medical volunteers and 20 non-medical event volunteers. The host site will need to provide 30-40 volunteers.  Volunteers can include school staff, teachers, coaches, trainers or parents. Prior to the screening, The Foundation will provide a link for adult and student volunteers on our volunteer management software (Time To Sign-Up).
We ask that all volunteers watch the video about the Foundation prior to participating in a heart screening event – please review the video – "OUR LIFESAVING WORK".  Volunteer jobs are split into 3 shifts, exceptions are noted in descriptions.
Please arrive 15 minutes prior to shift for orientation, sign-in upon arrival and sign-out when completed hours worked.
A Volunteer Acknowledgement Form will be available for community service hours credit.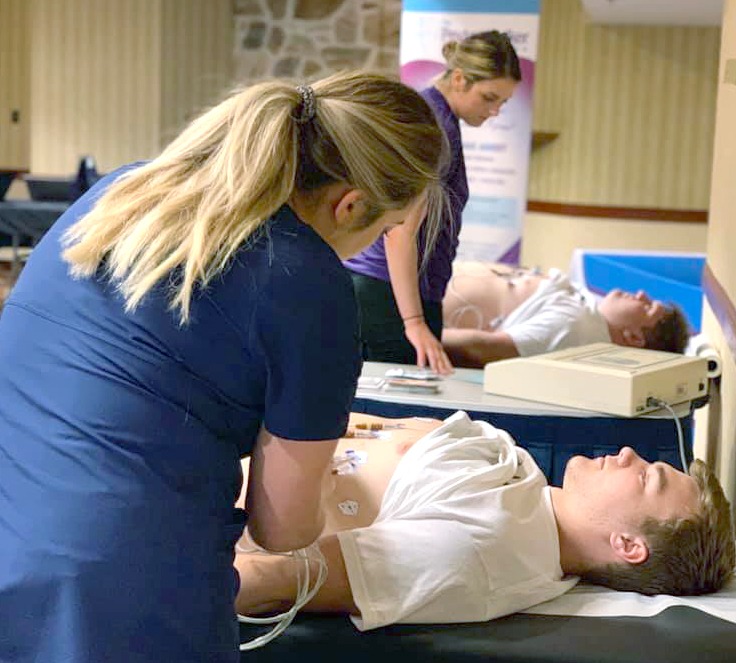 Non-Medical Volunteer Jobs
Station Manager (ADULTS)
A person committed to the goals of the Foundation and assigned to manage one or more stations at the event.  The station managers will remain on-site during the entire screening and must have experience with the PWF Heart Screening processes. Responsible for oversight of assigned area(s) and be able to answer questions, troubleshoot problems, observe that protocols are being followed and assist Station Monitors as needed.
Station Monitor (ADULTS)
Control the flow through their assigned station and direct participants to the next station and appropriate waiting areas.  Make sure the medical staff at station has supplies. Refer issues to the Station Manager.
Check-in (ADULTS)
Confirm participant is registered and review all paperwork for completeness.  
Check-out (ADULTS)
Confirm participant returns their folder and takes a copy of EKG and Medical Results.
Hospitality (ADULTS)
Responsible for set-up, upkeep and clean-up of the food and drinks in the hospitality area.  Also responsible for ensuring volunteers have food/water at stations if they cannot leave their assigned area.
Volunteer Table (ADULTS)
Confirm all volunteers sign in/out. Issue Foundation t-shirts to new volunteers.  Direct volunteers to the assigned stations. Manage Volunteer Acknowledgment Forms.
Greeter (STUDENTS)
Greet participants and direct them to the check-in station. Assist and direct visitors to the location of bathrooms, parking and Foundation representatives.
Runner (STUDENTS)
When the EKG is complete, take participant's folder to the doctor's review area.
CPR/AED Instructor (ADULTS & STUDENTS)
Assists Lead Instructor with demonstrating Hands Only CPR and using an AED to students and their families. Instructor Certification is not required, you just need to know how to properly perform CPR and how to use an AED.
Set-up/Clean-up (ADULTS & STUDENTS)
Assist with rearranging rooms to accommodate Foundation tables and equipment.  At the end of the event, return tables/chairs/desk to the original arrangement. Unload van and distribute equipment and supplies to appropriate locations. After the event, return equipment and supplies to the van.
Behind Our Story
Our mission is to increase awareness and survival rates for Sudden Cardiac Arrest.
Children Referred to Physicians
Adults & Children Educated About Sudden Cardiac Arrest

"Wiz" is a 4 sport student-athlete.  He plays soccer, basketball and track and is also a 2-time national speed skating champion. Wiz is the picture of health.  He is strong and physically fit. Looking at Wiz – you can't you tell that he has a serious heart condition.
The Wiz

Soccer player and all-around athlete, Sam, and 200 local students & athletes attended our very first free heart screening clinic in March 2015.  Sam – and her family – thought everything was fine.
Sam
Thank You To Our Sponsors!