Encourages Coaches, Parents & Students To Be Aware Of Sudden Cardiac Arrest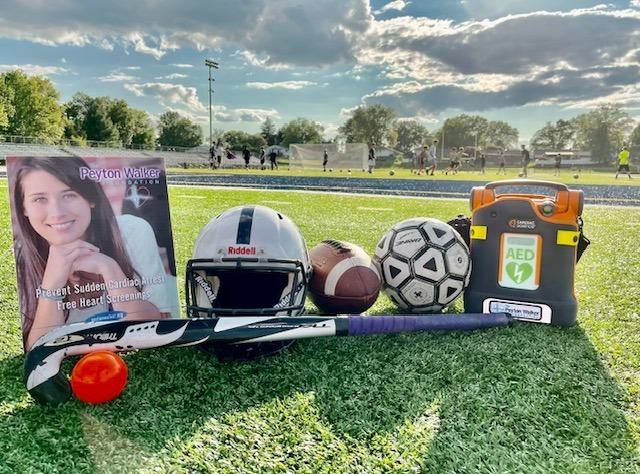 FOR IMMEDIATE RELEASE:  August 5, 2021                         
CONTACT: Lucy M. Gnazzo / 717-979-0692
MEDIA RELEASE
THE PEYTON WALKER FOUNDATION
ENCOURAGES COACHES, PARENTS AND STUDENTS TO BE AWARE OF SUDDEN CARDIAC ARREST SIGNS/SYMPTOMS AS ATHLETES HIT THE PRACTICE FIELDS "PEYTON'S LAW" IS IN FULL SWING TO COMBAT SUDDEN CARDIAC ARREST IN YOUTH AND EDUCATE PARENTS AND STUDENTS ABOUT LIFE-SAVING TOOLS SUCH AS EKGS THAT CAN BE REQUESTED
 MECHANICSBURG, Pa. – The Peyton Walker Foundation, one of the country's prominent heart screening advocates is reminding parents, student athletes and coaches about the signs and symptoms of Sudden Cardiac Arrest in youth, as student athletes prepare for the Fall Sports Season and are on practice fields across the state.
"As we approach the start of fall sports practice, I urge coaches, athletes and parents to be vigilantly dialed in to the increased risk of Sudden Cardiac Arrest (SCA).  Know the signs and symptoms to watch for – shortness of breath, dizziness, passing out, chest pain or pressure and palpitations.  Have an AED on the field for all practices and games – SCA is more likely to occur during a practice!  And, encourage your athletes to have their hearts screened – with an electrocardiogram – to detect hidden heart issues that can lead to SCA, which is the #1 killer of student athletes in our country.  Working together, we can save lives and spare families a lifetime of heartache," says Julie Walker, Foundation Executive Director and Peyton's Mom. (NOTE: VIDEO MESSAGE: https://youtu.be/0ySwonGghlY) 
Since the unanimous passage of "Peyton's Law" one year ago, Peyton's Law requires:
That the importance of EKG testing and how it can help detect heart issues leading to SCA is included in the PIAA form that student athletes and their parents/guardians have to review and sign prior to participating in school athletics.
Schools to include information in this PIAA form outlining the option to request an EKG from a family's medical provider, at their expense, during a comprehensive physical examination.
The PA Department of Education (PDE) also developed and posts information on their website about SCA – including warning signs/symptoms – and the importance of EKG testing for students. 
The Peyton Walker Foundation's goal is to continue educating parents and students about the prevalence of Sudden Cardiac Arrest (SCA) and the importance of Electrocardiogram (EKG) testing of youth. 
Walker added that, "over the past few years, I've met too many moms and dads who lost their children without warning to Sudden Cardiac Arrest.  Most of their children died from detectable heart conditions that were never diagnosed.  Sadly, a simple EKG could have found many of these heart conditions.  Had these parents known to request an EKG as part of their child's physicals, it's possible their children would still be alive today.  Our hope is that Peyton's Law saves even one young life, because a mom or dad now knows to ask for an electrocardiogram for their child.  We will have a beautiful legacy for Peyton and all of the other young lives we lost too soon to sudden cardiac arrest."
Nonprofit organizations and sports teams can request a free AED by contacting the Foundation. For more information on Peyton's Law or on the Foundation, go to PeytonWalker.org.  
ABOUT THE PEYTON WALKER FOUNDATION:
Peyton Walker was a 19-year-old Mechanicsburg native, 2012 Trinity High School graduate, and a sophomore in college who was pursuing a career as a Physician Assistant at King's College in Wilkes-Barre, Pennsylvania, when she suffered a Sudden Cardiac Arrest (SCA) that took her young and vibrant life on November 2, 2013. Afterwards, her family started researching Sudden Cardiac Arrest, and found that kids are dying every day from undiagnosed heart issues.  THE PEYTON WALKER FOUNDATION was established in honor of Peyton's memory and her dreams of working in the medical profession to help and care for others.  The Foundation's mission is to increase awareness and survival rates of Sudden Cardiac Arrest through education, screening and training. Events, screenings and important updates can be found at PeytonWalker.org.
To date, they are proud to have screened over 3,500 students leading to potential life-saving medical attention for many students. The Foundation also provides AED and CPR training to every STUDENT who attends their heart screenings allowing students and their families a chance to perform hands-on CPR and gain a better understanding of what an AED is and how to use it. The Foundation has donated over 200 Automated External Defibrillators (AEDs) to date, and also has provided over $90,000 in educational scholarships and hundreds of other FREE community CPR and AED Trainings.
The Peyton Walker Foundation, under the leadership of Walker, has worked with UPMC Pinnacle, Children's Hospital of Philadelphia, Duke University, Penn State Children's Hospital, WellSpan, Penn Medicine Lancaster General Health, Geisinger Health, PIAA, Big 33, PA Scholastic Football Coaches Association and other agencies in an effort to save young lives. Advocates, parents and medical professionals recognize that more can be done to protect student athletes to reduce the occurrence of SCA in our children.
Facts about Sudden Cardiac Arrest (SCA):
SCA is one of the leading causes of death in the U.S. (over 600,000 annually).
SCA is the #1 killer of student athletes in the U.S.

Every hour, every day,

a student dies from SCA. The majority of those deaths are attributed to detectable and treatable heart conditions that went undiagnosed due to the limited scope of standard sports physicals and well-child check-ups.
SCA is the leading cause of death on school campuses.

Survival rates of SCA are less than 10%.

Some warning symptoms that can lead to SCA include: dizziness, fainting, shortness of breath, ​chest pain, lightheadedness, and passing out.  The first symptom of SCA is often sudden death. However, the use of AEDs and CPR increase the chances of surviving an SCA event. 
RECENT RESEARCH:
A recently published study that appeared in the Journal of the American Heart Association states that the purpose of cardiovascular screening (electrocardiogram testing) is to "identify or raise suspicion of previously unrecognized and largely genetic or congenital cardiovascular diseases known to cause sudden cardiac arrest and sudden death in young people." Most experts believe that early detection of potentially lethal disorders can decrease cardiovascular morbidity and mortality.